Protect your home & Family from Damaging Ultraviolet Rays...Save Money on those High Air Conditioning Bills
Residential window tinting screens heat, blocks 99% of the sun's damaging ultraviolet rays, and deflects the uncomfortable glare while allowing glare-controlled sunlight to pass through. Low E window tinting films complement the changes of the seasons by reflecting the hot sun in the summer, and reradiating heat in the winter, making you comfortable all year long.
Compare The Difference
Window Tinting Can Make

Reduce heat gain by as much as 78%, increase comfort, and reduce utility bills.

Cut harsh glare without darkening your home.

Eliminate harmful UV rays by 99.9%. Preserve carpets, fabrics, furniture, and wood finishes.

Increase privacy from curious onlookers.

Shatter proof your glass to protect from flying glass during accidents, storms or earthquakes.
Protect your home with solar window tinting form Prestige Solar Tinting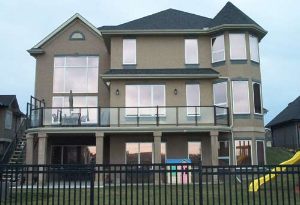 "Stopping the sun's heat before it penetrates your home's windows is up to seven times more effective than using interior blinds or curtains. - " U.S. Department of Housing and Urban Development".
As Georgia residents, we need to do all we can to protect our homes and valuables from the sun, and save money on cooling costs. Window tinting is the perfect solution!
Residential solar window films are designed and safe for today's dual pane insulated Low-E Glass. These advanced technology window films reject the heat without sacrificing your beautiful views or blocking out a lot of visible light.
We only use the highest quality film from Llumar and Vista that rejects up to 80% of Solar heat and 99% of ultraviolet light away from your windows and furnishings. With our Residential Lifetime Warranty, your windows will look great and save you money year after year!
Make your home safer for you and your children with solar window film. The film prevents windows from shattering and gives extra protection should an accident occur.
Let Prestige Solar Tinting take the guesswork out of protecting the investment you've made in your home and its furnishings. We all enjoy the sun, but often forget that its invisible UV rays are steadily ruining fabrics, furniture, artwork, and floors. Solar window tinting is affordable, durable, and will save you money on your cooling bills.
Call 706-369-7882 for an appointment or stop by our office for a free estimate.
Prestige Solar Tinting
2920 Atlanta Hwy B
Athens, Georgia 30606
706-369-7882
E-mail PHILATHENS@aol.com
Map & Driving Directions